At Wedgnock Shooting ground, based at Adventure Sports, we aim to give both Members and Non-members a great shooting experience. We aim to tailor both our shooting lessons and the shooting stands themselves so that both novices and experienced shooters can enjoy themselves. With the introduction of our new Claymate system, we have designed our shooting setup so that we can give members more of a reason to shoot with us...
---
Becoming a member at Wedgnock Shooting puts you in a privileged position; it allows you to understand the many reasons why we have grown to become one of the Midlands most popular shooting grounds.
With over thirty years of experience, our shooting ground boasts mid-week shooting, solo-shooting and an array of different stands. To get the full experience, you will need to become a member; and there are many different advantages of doing so;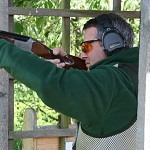 What do Non-Members get?
Non-members get a card, but they will have to give it back after their session of shooting and will need to pay on the day.
As they have to give their cards back at the end of the session, non-members will have to queue up every time they come in so they can get a card from our shoot manager.
Non-members would have to pay £0.32 per clay instead of the £0.27 members pay
What are the Advantages of being a member at Wedgnock Shooting ground?
For only £50, get your annual membership (expires in March).
One of the biggest advantages is that you won't have to queue after you have bought the card - you can head straight out to shoot and leave whenever you like!
You only pay when you need more targets!
You get to keep your own personalised card and get your own lanyard to keep the card safe!
You also get cheaper rates than non-members - £0.27 per clay instead of £0.32 per clay (opt to prepay a minimum of 1000 clays and you'll get an extra 17% of clays - 10% for no-birds and 7% for an added extra!).
If you shoot over 800 clays over the year (which, for most members, is only 8 days out), you will have had cheaper rates than non-members. So, if you are likely to shoot consistently with us, it's a no brainer!
Non-members can still have a fantastic time at our Clay shooting range. However, being a member at Wedgnock Shooting ground gives you access to some things that non-members wouldnt get. If you are interested in purchasing a membership for Wedgnock Shooting ground visit us or call on 01926 491948.