Christmas is only just around the corner. Decorations are beginning to appear in the streets and there's a certain festive spirit in the air. With this is mind, it's important you get everything sorted before the special day finally comes. However, much like every year, some people have left it until the very last minute to get presents and parties sorted.
Are you one of these people? Do you need to organise something quick before your colleagues start getting on your back?
---
Well, we've got something that could help you make this years festive season one to really remember. If you were thinking of taking a trip to the pub with your mates or colleagues, don't. There's no way that can be described as a 'Christmas party'; you can do that at any point during the year. Furthermore, a trip like this can leave you massively out of pocket and almost inevitably with an unwanted hangover the following day.
Our Christmas Parties can only be booked, surprisingly enough, at Christmas time. We have two different types of events; a Christmas mixed activity event and a Christmas Clay Shooting event. Here's what both of them include;
Christmas mixed activity event
If you are looking for something extremely adventurous and adrenaline fuelled this Christmas, we've got the perfect day for you;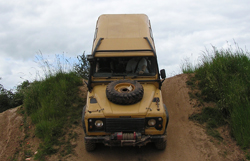 Four activities;
4x4 Offroading - Our 4x4 activity is a great way for groups to have a go at driving off road. You and your team will have great fun attempting to get around our off road track; which has tricky bumps and water splashes for you to tackle.
Reverse Steer - Fancy a bit of Christmas confusion? This activity is by far the most mystifying: our crafty mechanic has changed the steering so that when you tuen right, the vehicle turns left, and vice versa. Throw in a blindfold, and you got an absolutely hilarious activity.
Clay Pigeon Shooting - A traditional way to celebrate Christmas! Our Clay Pigeon shoot is the perfect way for groups to have a bit of competitive Christmas competition and to see who has the best shot!
Archery - Archery can be perfect for those who like a bit of competition and who fancy themselves as the new Robin Hood. Our amazing archery activity gives you a session with one of our experienced instructors, who will teach you everything you need to know to hit that bullseye!
OR Quad Biking - If you want something a bit more adventurous, you can have a go at driving our powerful 250cc Honda Quad bikes - perfect replacements for Santa's Reindeers!
Christmas style lunch -
Turkey
Roast potatoes
Vegetables and gravy
Christmas pudding OR Chocolate log
Cost -
The final cost of the four activity event (a total of five hours) is £111.50pp plus VAT. If you would like mince pies and mulled wine as an added extra, we can offer the package at just £115.
Christmas Clay Pigeon Shooting
This event is perfect if you are looking for a Christmas party which is more layed back and relaxed but which still has that competitive element to it.
The only activity in this event, as the name suggests, is Clay Pigeon Shooting. However, there are two different types that we offer; a 20 shot taster session and a 50 shot challenge.
20 Shot Taster session -
This is more of an ideal option for a group of people who would like to try clay pigeon shooting for the first time. The one hour session will give each guest approximately 20 shots under the supervision of a CPSA qualified instructor. No experience is required for this session and all the equipment will be provided. Most guests will end up hitting at least 70% of the targets.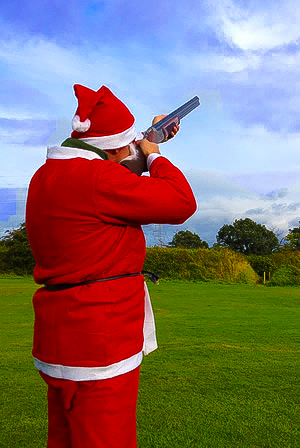 50 Shot Challenge -

Ideal for those who would like to try Clay Pigeon shooting to see if they might take it up as a hobby. The length of the lesson will depend on how many guests are in the group - but we generally say the session will last for 2 hours. We provide all of the equipment (shotgun, cartridges, clay targets, hearing protection) and full tuition. These sessions are suitable for individuals or groups looking at having a more traditional Christmas celebration.
Cost -
For the 50 shot challenge, the overall cost would be £55pp-£65pp depending on the group size - this would include all the equipment and tuition and of course the experience of an unforgettable activity.
For the 20 Shot session, the overall cost would be £30pp, based on a minimum billing of three people (£90).
If you would like to include food; Turkey, roast potatoes, vegetables and gravy, and then either Christmas pudding or chocolate log, the cost would be an extra £16.50pp.
So, why are our Christmas Events better than anything else?
We've all been to a pub party or a family meal out at Christmas time. They aren't bad... but we all yearn for something a bit more exciting and adventurous.
This is where we come in.
Both of our events are amazing fun and maintain that fantastic Christmas spirit that you need from a party this time of year. Our events offer something different - which is the sole reason our Christmas packages are everything you need to have a memorable Christmas.
If you're interested in either of our Christmas events, be sure sure to give our office a call on 01926 491948!