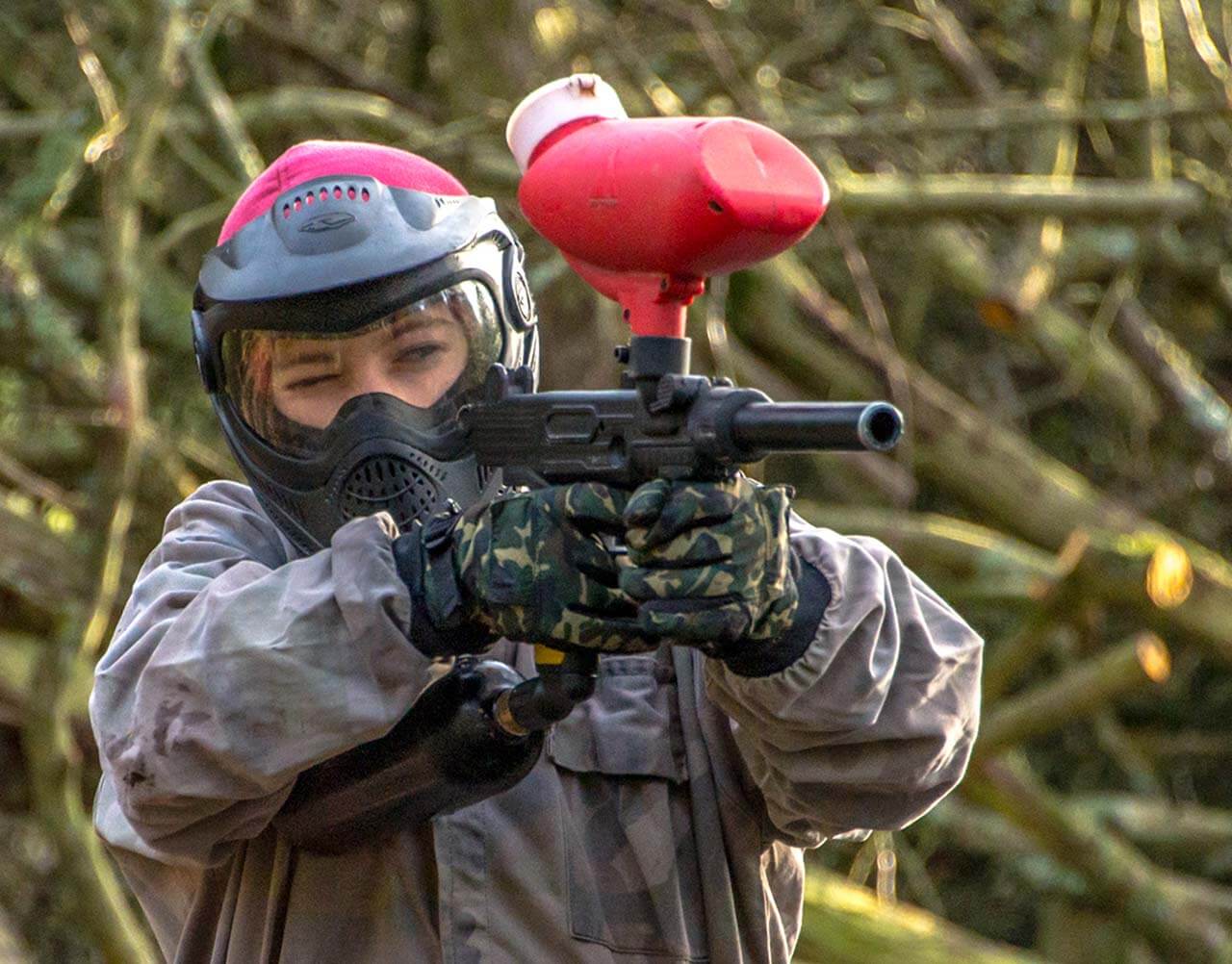 Paintball
Paintball is an exciting mix of action, teamwork and tactics that's loads of fun whether you're planning a party or just want something fun to do this weekend!
Action Packed

Adrenaline Fuelled

Shoot or be shot
Book Now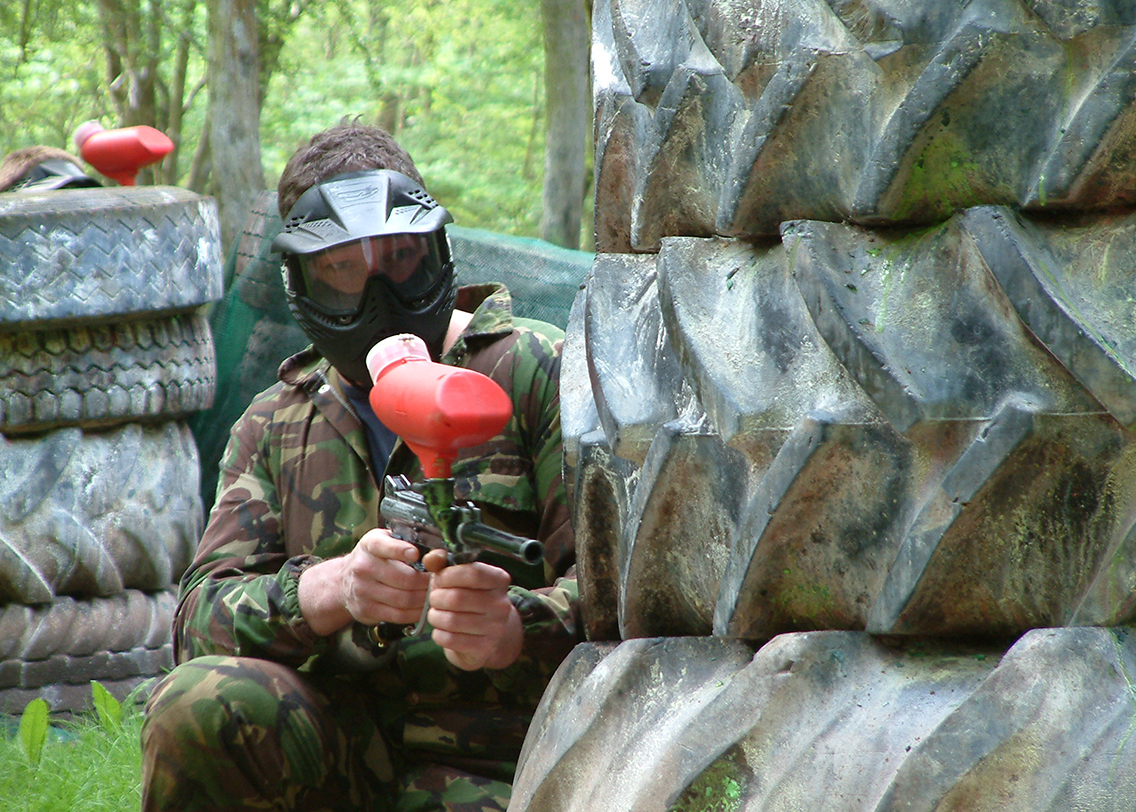 Options & Pricing
Paintball is an exciting and fast paced game of team work and action. Pellets of paint are fired at opposing team members using a Paintball gun - you're trying to shoot as many of the opposition as possible.
We run three different paintball experiences:
Compact Paintball (suitable for 12 yrs+)
Junior Paintball (suitable for 8 - 12 yrs)
Low Impact Paintball (suitable for 8 - 80 yrs!)
Book Now
Compact Paintball
£270 for 6-10 people (includes 2,500 paintballs). Additional players @ £27 / hd (inc 250 pellets).
Cost includes a 2 hour private session, overalls, gun and goggles. Available 7 days a week. Suitable for 12 year old+
Ideal for small groups who want an action packed private session
Private party - it's just your group at each game (you won't be mixed in with a different age group)
Suitable for between 4 and 30 people
Suitable for 12 year olds and over (those aged 12-16 yrs need a letter of consent to play)

Junior Paintball
£240 for 6-10 people (includes 1,000 paintballs).
Additional players @ £24 / hd (inc 100 pellets).
Cost includes a 2 hour private session, gun and goggles. Available 7 days a week. Suitable for 12 year old+
Low Impact Paintball
£260 for 6-10 people (includes 1,500 paintballs). Additional players @ £26 / hd (inc 150 pellets).
Low Impact Paintball uses specially designed guns that are lightweight, easy to operate, safe and, most importantly, really great fun to use!
A series of games will be played over a two-hour private session. Each game has a simple objective (such as grabbing hold of the opposing team's flag) - this is made easier by eliminating opponents by shooting them with paintball (round pellets of brightly coloured, water soluble paint). Spring powered guns fire the paintballs at around 100 mph and the pellets break easily on impact.
All players wear an advanced head protection system, specially designed to ensure the activity is safe. These fully protect the player's head from impacts (protection for eyes, mouth, ears and forehead).
This is a private session for your group only!
Ideal for:
Children aged 8+ years
Teenagers
Adults (we've even had an 80 year old play!)
The activity can be played by all ages at the same time - the playing areas are close together so there is no need to run / get out of breath if you don't want to!
A great event for a family get-together; a gathering of friends, hen party, birthday party or company away day.
Those aged 8 to 16 years will need parental consent to play Paintball - view and example Parental Consent form.
Requirements
Participants must be 8+ for Junior and Low Impact Paintball, and 12+ for Compact
Paintball is a physical game, so you need to be able to run around carrying a fairly heavy paintball gun
Parental consent required for players under 16
Wearing the right clothes can make your experience way more fun - here's our Paintball Clothing Advice guide for more information
If any of the group members are aged under 16 years we will need at least two adults to accompany the group

Included in experience
Paintballs (number of pellets varies depending on the format of your game and the number of players)
Semi-automatic paintball guns - lower powered guns are used in Junior and Low Impact sessions
Overalls are included in Compact Paintball sessions
Safety goggles (protect your eyes, mouth, forehead and ears)
Dedicated layouts for quick turnarounds and tactical planning!
On site marshals to referee the game and help when needed
Availability
Monday-Saturday all year round
Sundays 14:00-16:00
Bookings must be made in advance
Book Paintball online
Check availability and book your Adventure Sports experience online. It's fast, secure & safe - just like our activities!
Book Now
Need Something Special?
Booking a special event? Or want to add some extras to your experience? Talk to the Adventure Sports team and we'll help you organise the perfect event.
Get in touch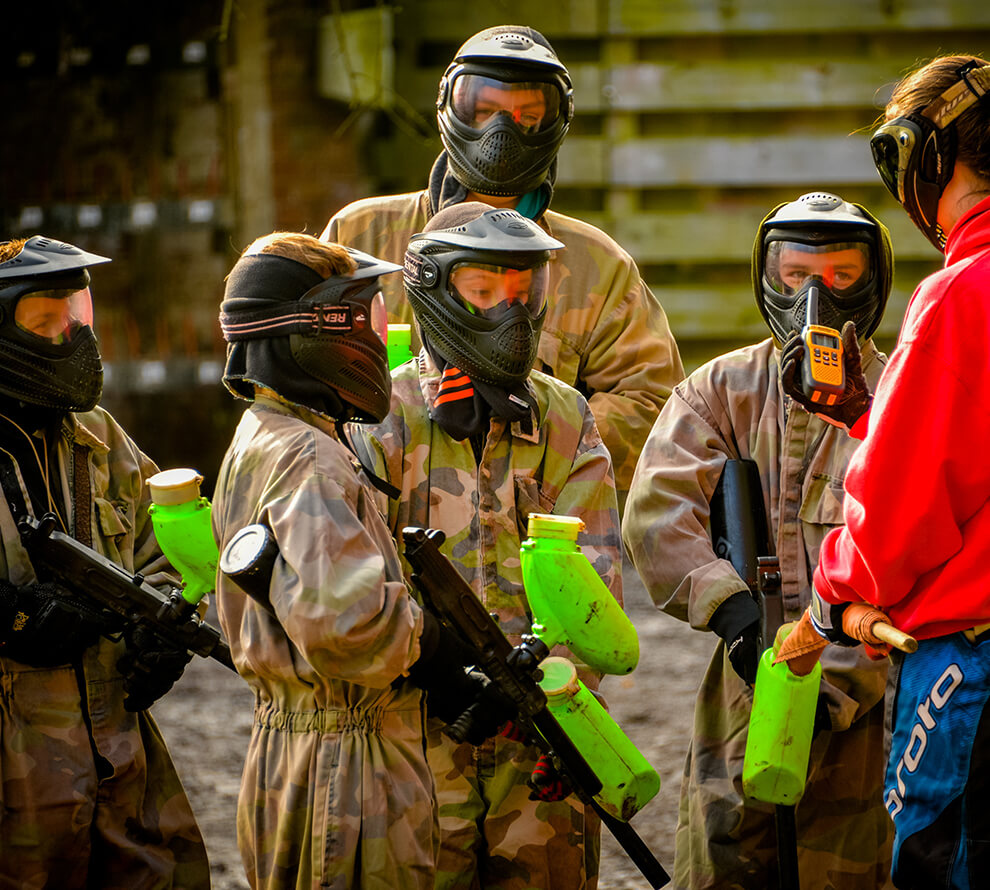 Paintball Warwick
At Adventure Sport we've got a brilliant setup for paintball games, with 50 acres of woodland, trenches, barricades and ridges to conquer, control and take cover in! We run several different types of paintball match, and your marshals will make sure you know the rules (and what team you're on) before you get started.
Once you've been marked with paint - you're out! But a typical experience includes around 5 games, so don't worry, you'll have another chance to prove yourself! Get to grips with all the basics for your session with our Paintball Tactics & Advice guide and prepare for paintball victory!