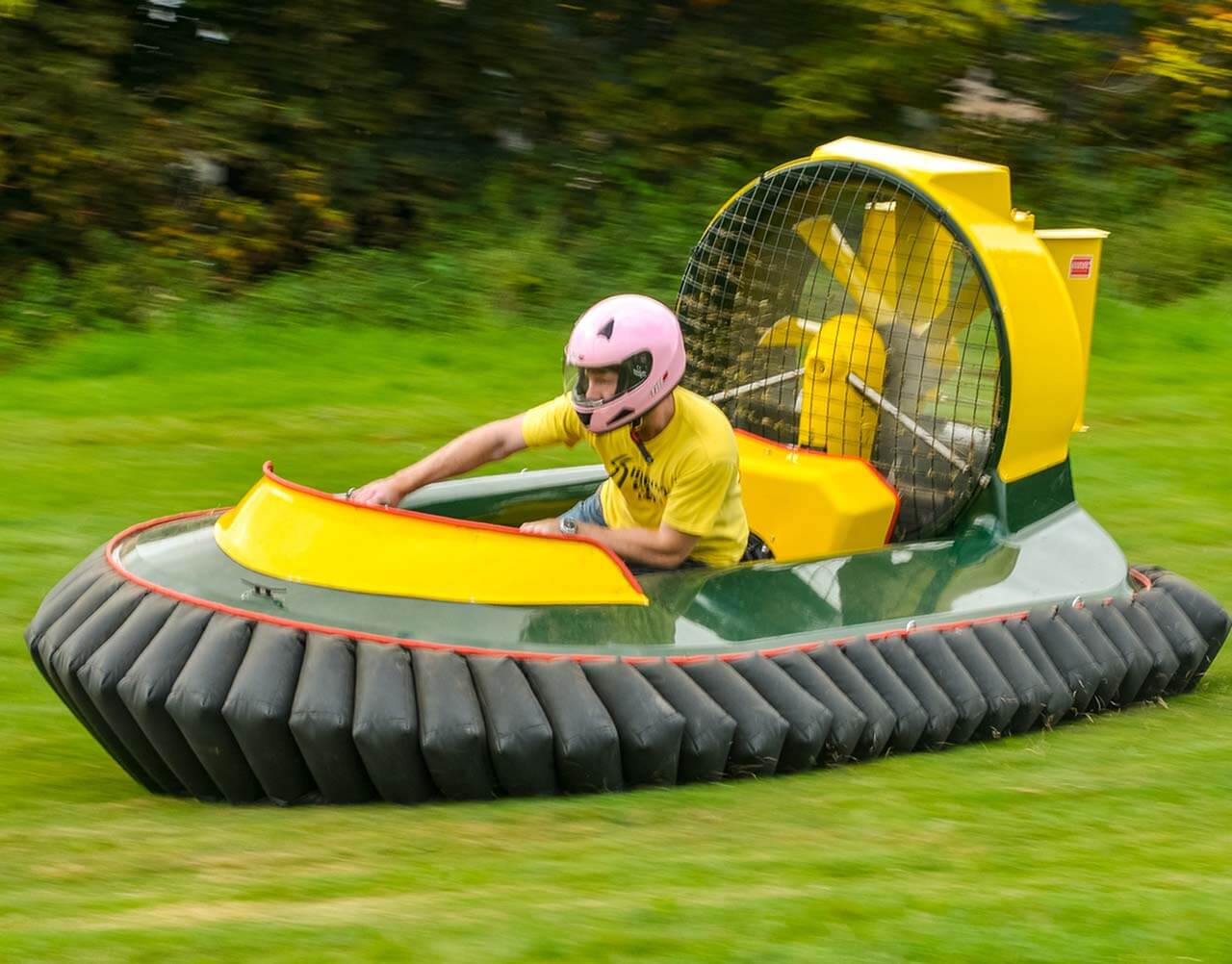 Hovercraft Experience
Experience the exhilaration of flying a foot off the ground in our awesome Flying Fish Snapper hovercraft!
Highly Unusual

Ride on Air

Powerful Vehicle
Check availability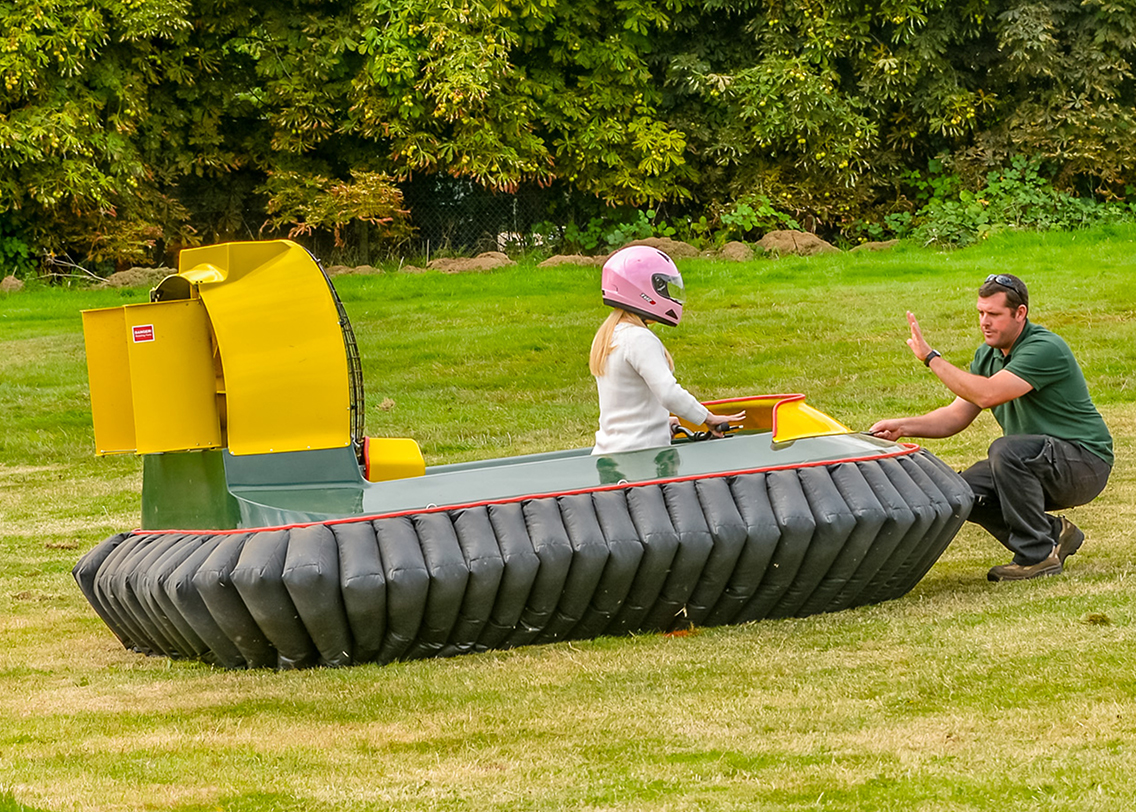 Hovercraft Driving
If you have ever seen a hovercraft flying, you will have wished that you could have a go - now you can! Flying a foot off the ground, our Flying Fish Snapper hovercraft are easy to drive, and exhilarating enough for hardened thrill seekers!
During the event each participant will receive full tuition on how to fly our hovercraft before progressing to a large course to put the machine through its paces, experiencing the excitement of power sliding around the corners at high speed!
Check availability
What is a Hovercraft?
Hovercraft use a cushion of air to float above the ground.
Our single seater Snapper craft use a large fan, powered by a 28 hp four-stroke Briggs and Stratton Vanguard petrol engine, to draw in air and force it underneath the body of the machine. This air is retained by a 'skirt' made from a tough nylon material that allows the whole craft to fly one foot above the ground. The fan also propels the hovercraft forward at speeds of up to 25 mph.
Who Can Fly a Hovercraft?
If you are aged 14 years or over you can fly our hovercraft. If there are any participants aged 14 or 15 years, they will need to be accompanied by at least two adults.
Hovercraft are steered using a handlebar and, most importantly, by moving your body weight around from one side of the craft to another whilst kneeling upright. You must be physically capable of doing this otherwise you will not be able to fly the machine.
You will sign a form at the start of the event to state that you are physically and mentally fit to take part in the activity and that you are free from any medical conditions that could be problematic (e.g. bad back, pregnant, limited mobility ...)
All participants must be between 7 and 18 stone (44 - 114 kg).
Requirements
Participants must be 14+ years old and between 7 and 17 stone (44-114kg)
Hovercraft are steered using a handlebar and by moving your body weight around whilst kneeling upright. You must be physically capable of doing this otherwise you will not be able to fly the machine
Anyone who suffers from poor mobility, has back problems or is pregnant will not be able to take part in this activity
You'll be kneeling and moving around to steer, so we recommend wearing clothes that you'll be comfortable doing this sort of activity in
If any of the group members are aged under 16 years we will need at least two adults to accompany the group
Included in your experience
Exclusive session for up to 6 people
All equipment including safety helmets
Qualified instructor
How to Drive a Hovercraft
The fan speed is controlled by a hand throttle mounted on the right hand side of a steering bar. Depress the throttle and the fan revs up providing lift and forward thrust.
The steering bar moves the fins mounted behind the fan - these direct the air and help to steer the craft.
The most effective way of steering is to shift your body weight to either side of the craft in the intended direction of turn. This allows air to 'spill' out from the opposite side of the skirt and this propels the machine in the direction of the lean.
The skill of piloting a hovercraft comes from predicting what you want to do well in advance- there are no brakes and turning takes a long time! We use a large open grass field as hovercraft require lots of space!
Availability
7 days a week, all year round
Bookings must be made in advance
Book Hovercraft online
Check availability and book your Adventure Sports experience online. It's fast, secure & safe - just like our activities!
Need something special?
Booking a special event? Or want to add some extras to your experience? Talk to the Adventure Sports team and we'll help you organise the perfect event.
Get in touch
Hovercraft Midlands
Learning to pilot a hovercraft starts with finding your balance point, and using the steering bar, throttle and your body weight to control speed and movement. It's brilliant fun and a fantastic challenge too!
Our 100 acre site includes a wide, open field that's dedicated to hovercraft. There's plenty of space to power slide round corners at high speed, and put your hovercraft through its paces.