Quad Biking
Drive a powerful all-terrain quad bike through 100 acres of challenging countryside with slopes, mud, grassland and picturesque woodland.
Action Packed

Adrenaline Fuelled

Highly Capable Vehicles
Check availability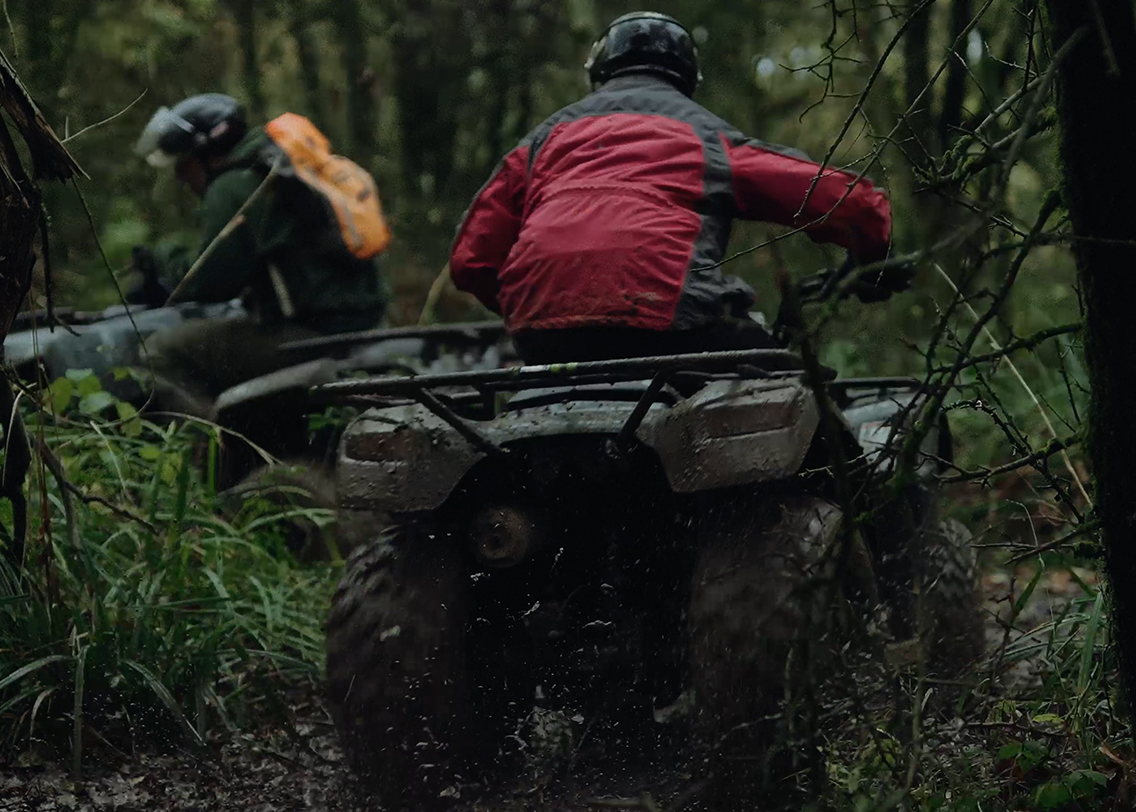 Quad Bike Trekking
Your hour long trek starts with a training session to ensure everyone knows how to ride and control a bike. An undulating countryside stage allows the instructor to judge the trekkers' skill level before proceeding to a suitably challenging route through dense woodland, mud, water and harsh terrain.
The quads are steered using handlebars, accelerated using a thumb throttle and braked using a finger operated lever and/or a foot pedal. There are no gears to worry about and no previous experience is required.
Check availability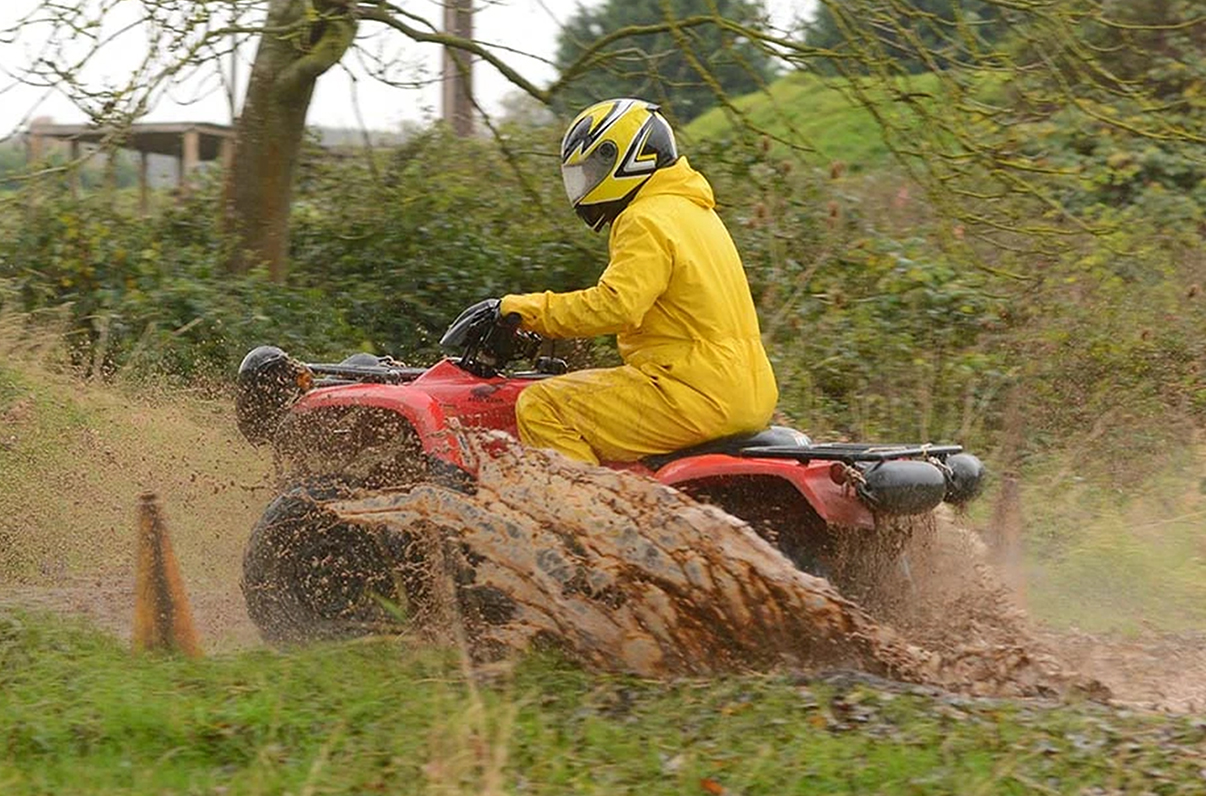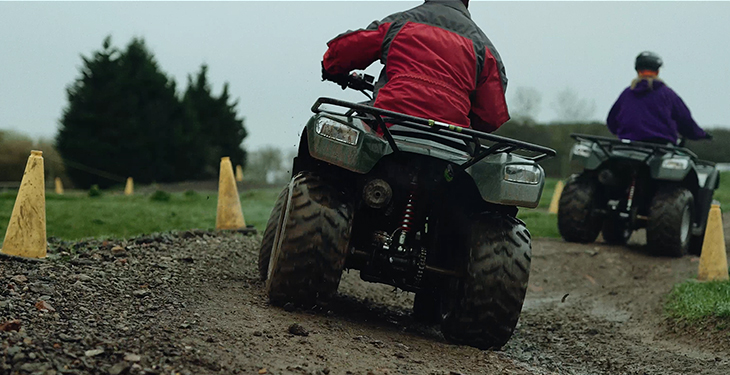 Riding a Quad Bike
Every participant must be able to confidently steer, brake, change gear and accelerate using these controls, so moderate strength is required. Body weight must also be transferred around the bike to safely ride up and across sloped ground.
Disabled participants are welcome, and go through the same process as every other rider. Occasionally a trekker won't reach the minimum required level of riding ability to continue (around one person in every 50). If this does happen we will refund the participant in full.
Check availability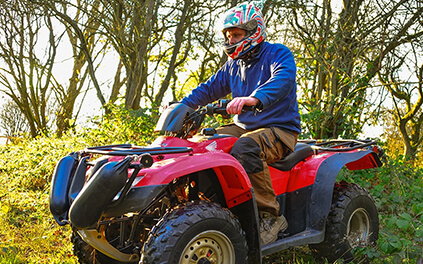 Quad biking gift vouchers
Give the gift of adventure with a quad biking gift voucher! An Adventure Sports gift voucher is the perfect present for anyone over 16 who'd love a quad bike trekking experience.
Buy a voucher now
Requirements
All trekkers must be 16 years old or over, as the quad bikes we use are designed for adults. If you are lucky enough to look younger than 16 you will need to bring along some proof of age.
You will need to have an appropriate level of skill for this activity, which will be assessed by your instructor during the initial stages. Occasionally someone won't meet the minimum riding ability (only one in around 50), and if this does happen we will refund that participant in full
Participants must all 'sign in' before taking part. The sign in sheet is a two part form. Part one is filled before the participants get on the bike. Part two is signed after an initial training session.
There is a reasonable amount of physicality required to ride a Quad Bike in order to manage the controls and maneuverability
We recommend wearing comfortable clothes - you'll be outside and things could get muddy! Long trousers are essential, and we also advise that you wear long sleeves. You can add Overalls to your booking as an extra if you'd like to protect your clothes - these will be available on the day for £3.50 per set.
Suitable, sturdy outdoor footwear/trainers are required (no flip flops or sandals).
Equipment
Our quad bikes are very capable machines offering electronic gear shift (no clutch to worry about - you just press a button!) great suspension, comfortable riding position, high-grip off-road tyres and are highly controllable.
Everyone wears a specialised ATV crash helmet (just in case!) and gloves to protect hands from passing undergrowth. You are welcome to bring your own helmet as long as it is a modern design, in good condition and is a full face model.
Included in your experience
One hour on the quad bikes made up of instruction and trekking time
Use of our quad bikes
Safety equipment provided (ATV crash helmet and gloves)
Full tuition from an experienced instructor
Availability
All year round

Daylight is required, so availability during the winter is more restricted.

Weekends tend to be in high demand so standard booking times are used.

All quad treks are booked in advance – we don't offer any "turn up and drive" sessions.

Bookings must be made in advance
Get in touch for these extras
Book Quad Bike Trekking online
Check availability and book your Adventure Sports experience online. It's fast, secure & safe - just like our activities!
Need something special?
Booking a special event? Or want to add some extras to your experience? Talk to the Adventure Sports team and we'll help you organise the perfect event.
Get in touch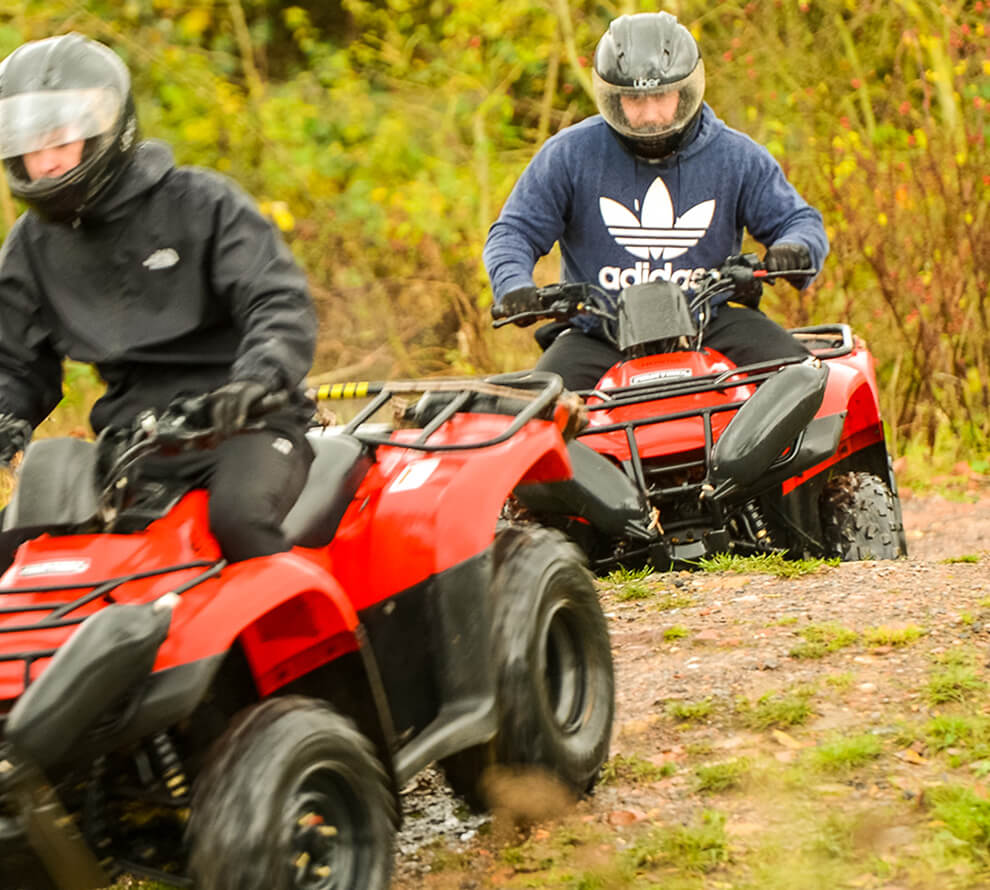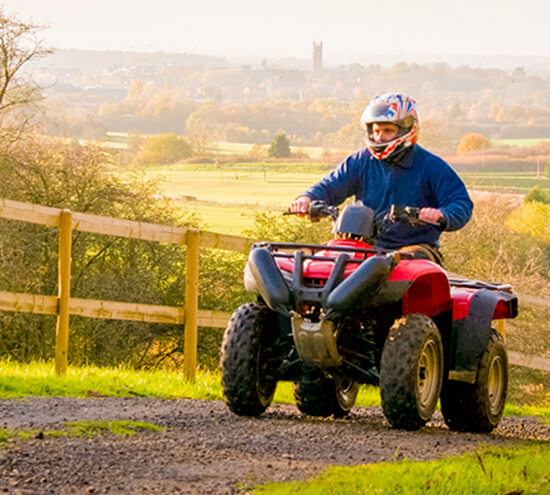 Quad Biking Warwickshire
Gear up with your mates and prepare for a thrilling ride across the Warwickshire countryside on one of our powerful all-terrain quad bikes. Trek across mud and slopes, fields and woodland taking on everything the course can throw at you!
Your experience includes a qualified instructor who will teach you the basics of riding your quad bike, then lead you on a challenging route across the 100 acre Adventure Sports site.