Who doesn't love sports? They are tremendous fun, and here at Adventure Sports, you get a chance to learn new skills whilst enjoying the great outdoors.
And with the weather we are likely to have this summer, would you really say no?
---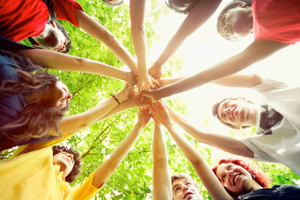 Active sports are one of the best ways to build up relationships between colleagues and different office departments, and our Team-Building packages are among our most popular.
Away from the almost jail-like confinement of the office, getting out into the countryside and enjoying the freedom immediately gives everyone a positive outlook and a level playing field (no pun intended) where they can relax, enjoy themselves and gain a whole new level of confidence that will in turn encourage more communication.
Tailored to your needs
Depending on the challenges you're facing as a team, or if you want to treat your employees for a successful year with some good, old-fashioned fun, we've got everything you may need for a memorable experience.
The fun and challenging environment around the activities we offer will help your team bond with colleagues across departments and interact with those they may never have spoken to before; except for the awkward chat in the kitchen as you wait for the kettle to boil.
If you've never had a chat with Dave in the Accounts Department, there's no better time than when you're plotting tactics to defeat the other side in a paint-balling war.
Bonding and bomb disposal
Our team-building activities include the Empire 'Crate Building' task and learning how to pilot a hovercraft: with a real challenge and a common goal to focus on, your team will end up fostering mutual respect and understanding, whilst forging great memories and honing your abilities.
One of our challenges involves defusing a live bomb against the clock - there is no activity more intense than this one. It will deepen colleague relationships through trust, with all members of the team engaged in the same task and relying on one another for fast results!
The great thing about Team-Building at Adventure Sports is that each of our activities address every aspect of communication and help to build the foundations of a relationship through support, encouragement, leadership, trust, co-ordination and, of course, fun!
Communication and clay-pigeons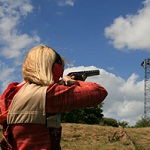 Our packages have been designed to encourage team members to communicate in a range of environments. For example, the full-day 'Speed and Safari' package involves some high-speed hi-jinks with an all-terrain quad safari where you can let your hair down and really get stuck-in.
Afterwards, we will take everyone clay pigeon shooting - the fast-paced, adrenaline-fuelled environment during the first part of the day will have allowed everyone to relax around one another. This will naturally lead up to the second part of the day where the rapport that will have shaped can be established through a calmer, slower activity where meaningful communication and conversation will naturally arise.
Our Team-Building activities also help in another way: they can help employers get to know their employees better, by recognising their strengths and areas in which they are the most confident, as well as those where they could do with a boost.
If you fancy joining Jaguar Land Rover, Warwick Castle, EDF energy and all of the other teams who have benefited from our fantastic activities, what are you waiting for?
Book now for the best Team-Building experience you could possibly wish for - we look forward to taking you on our epic adventure!