Are you looking for somewhere to take the kids this summer? Want a day out with lots of activity but can't find anything suitable for the young ones?
Well, we have just the thing…
---
Junior Paintball holds the key to making those summer days where the kids hang around the house turn into one of the most exciting adventures of the year.
Although quite new, Junior Paintball is already catching on and many of the younger ones are falling in love with the exhilarating adventure it provides. With the competitive nature of youngsters today, it is no surprise that Junior Paintball is becoming just as popular as all of the other activities we have to offer.

Children from the ages of 8 – 12 years can come and have a go: it is extremely similar to standard Paintball and gives just as much of an adrenaline rush too!
Junior Paintball has the same objective as it's older brother – shoot as many people as you can and don't get shot yourself.
There are, however, fundamental differences in the equipment that is used.
For standard Paintball, we use metal semi-automatics guns that can hold 200 paintballs. They use compressed Co2 gas to fire .68 calibre rounds at around 280 feet per second (about 200 miles per hour!)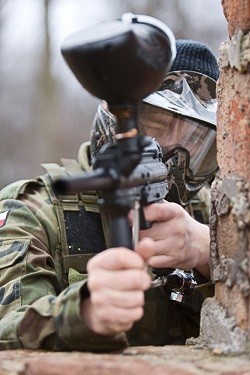 The equipment for Junior Paintball is made purely for ease of use. We use plastic guns that are much lighter to carry and easier to handle – which is perfect for those little arms! These pump-action guns fire 50 calibre rounds at nearly half the speed of the standard weapons (which is still over 100 miles per hour!).
The standard Paintball pellets will hit you at 40 metres – any further than that and you're safe. The Junior Paintball pellets, on the other hand, will hit you at 20 metres, and with much less of a force!
The same paintballs are used in both cases –they are water-soluble and have an outer shell of Gelatine that shatters on impact.
But if you are worried about the pain of Paintball, the junior variation is definitely for you. In standard Paintball, if you get hit, you know about it.
It can leave a bruise, but this is part of the fun: it makes you fearful of being hit which in turn gives you a rush of adrenaline like no other.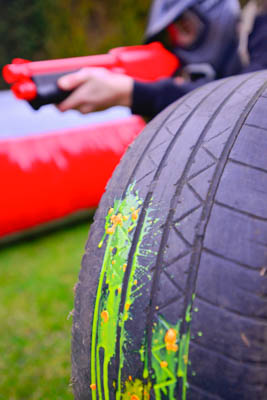 Here at Adventure Sports, we take safety extremely seriously. For Junior Paintball, because of the age of the participants, players wear body armour and full head protection, and in the standard session,players wear goggles that cover their eyes, mouth, ears and forehead.
The Junior Paintball sessions last for two hours; they tend to be shorter games which are much more close range. You can usually see your enemy so you have to be very careful when deciding to take your shot – otherwise you'll be the one being showered with paint!
The standard Paintball sessions last either for three hours, or for a full day (9:30am-4pm). The games last for a longer period of time, and you are based in areas with more open space, like the woodland area. With trees for cover and huts to hide in, it is no surprise this arena is one of the favorites with the paintball crowd.
So… are you interested?
Now you know the differences between the two types of paintball sessions we offer here at Adventure Sports, which one takes your fancy?
Want a simple, fast-paced and pain-free session and are between the ages of 8-12? Junior Paintball is for you.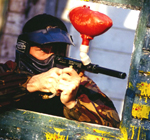 What about an adrenaline fuelled adventure with a competitive nature? Standard Paintball is the one you are looking for.
Paintballing has and always will be one of the most popular activities at Adventure Sports.
Join the craze – you won't be disappointed.