At Adventure Sports in Warwick, we offer a wide range of options when it comes to team building and corporate events. With added structure and evaluation we know that the businesses we work with get huge benefits from our fantastic course and events.
But what if you wanted something a little less formal and structured? What if you wanted to give your staff and employees the flexibility to choose what they do when they come to our adventure sports playground in Warwickshire?
Well recently we did just that…
---
A top dollar informal teambuilding event!
We arranged an event for a business that allowed the usual team element without the formality of event rotation. Event rotation is when teams rotate around a set number of activities in a set order. Every team takes part in every activity and they follow a set plan.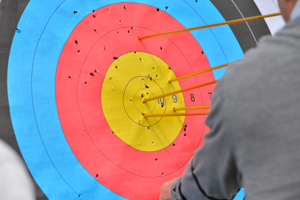 This time though, we put on a wide array of activities for around 80 team members and allowed them to choose what they did… and for how long! All the team members earned fake American Dollars, depending on how successful they were. But each member was part of a team and their earnings were all combined to give us our final winner.
We put on a great choice of popular activities from our 'out-of-the-box' teambuilding events.
These were:
4x4 off road driving
Grass karts
Quad bikes
Air pistols and rifles
Clay pigeon shooting
Archery
Segways (so much fun!)
Guests arrived at 9.30am all ready for a fun-packed day and were briefed, as always, on the safety and the idea and focus for the day's activities. Then they were given the choice to choose any activity to start with.
Some of the team members hopped around the different activities and tried their best at all we had to offer. Some of the teams had other ideas. Some were really happy to home down their skills on one or two and be the best and then earn more Dollars – clever tactics!
The air rifles always get people hooked, as you get into it really easily and then really want to improve. Usually you don't get the chance to, but some of the team members stayed on the rifles for over two hours!
Place your bets on the clay pigeon shooting
The teams even started a mini cash pool, and bets were placed for the most clays shot. The winner took the pool of cash back to their team - triumphantly leaving the other shooters wishing they'd practiced more!
The archery was also very competitive with bets being placed on the last arrow and double or quits seeing people lose big, making or breaking the final result.
The day came to a close at 3pm after a well-earned lunch. It was a really relaxed, informal team event that allowed everyone lots of flexibility and fun, and in turn generated its fair share of tactics and rivalry.
So if you're looking for a more informal event with your teambuilding day just ask us. We tailor the day completely around you and your business. We want you to have the best day and we really enjoy the challenge of creating bespoke activity days for businesses!