An unusual email enquiry came in yesterday that required a bit of local knowledge and creativity. The brief included:
We're looking for two days in April, with quad biking, geo-cache, clay shooting/archery with accommodation (ensuites essential!) and ideally finish the day with a campfire and bbq, then next day facility for a board meeting. Can you help?

---
Of course we can!
We're in the Midlands (Warwick)
We have loads of great hotels close by
Quad bikes, clay shooting and archery are our bread and butter!
BBQ - no problem
A Campfire - slightly unusual but we are based on 100 acres so we have the space
Geo Caching (using a GPS unit to navigate to a series of hidden objects) - we can do that!
A quick call was made to the Chesford Grange Hotel to check room availability and costs. The Chesford was the natural choice as it is located only a few miles away and, more importantly, there are lots of public footpaths that would be ideal for a Geo-Caching team event.
We would need to get the guests back to the Chesford at the end of the day (they probably wouldn't appreciate a four mile cross country hike) so a call to Johnson's Coaches confirmed the transport availability and costs.
The format was discussed around the office to check routes, safety, public access and general logistics and the following format evolved:
Day 1.
09.30 - Guests arrive at hotel. Our event manager will meet the guests and explain the format for the event over a coffee. The group of 16 will be divided down into three teams. The teams will be challenged with finding their way to our activity centre using a cross country course.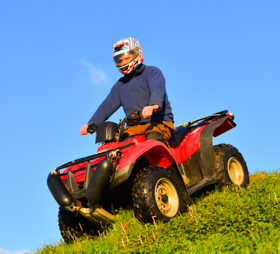 10.00 - The teams will be given a map, compass, GPS unit and a set of co-ordinates. The co-ordinates will lead the teams to different Geo-Cache locations (different locations for each team to ensure they can't just follow each other). At each location the teams will need to search for a small canister that contains information / clues for the team.
12.00 - Teams arrive at our activity centre for a hearty lasagne lunch.
13.00 - Teams head out to take part in the first of three activities (Clay Pigeon Shooting, Quad BikeTrekking and Archery).
14.00 - First activity ends. Teams circulate around to the second activity.
15.00 - Break for afternoon doughnuts and coffee.
15.30 - Final activity.
16.30 - Scores announced and bottle of champagne presented to winning team.
17.00 - Camp fire build - an area close to the Clubhouse can be used for a fire or, if the group are a bit more adventurous, we can head up into our 50 acres of woodland!
18.00 - Barbecue evening meal.
19.00 - Coach collects guests and transfers them to the hotel for check in and a few evening drinks!
Day 2
Breakfast at the hotel.
Meeting room available all day.
Lunch.
Depart after meeting ends.