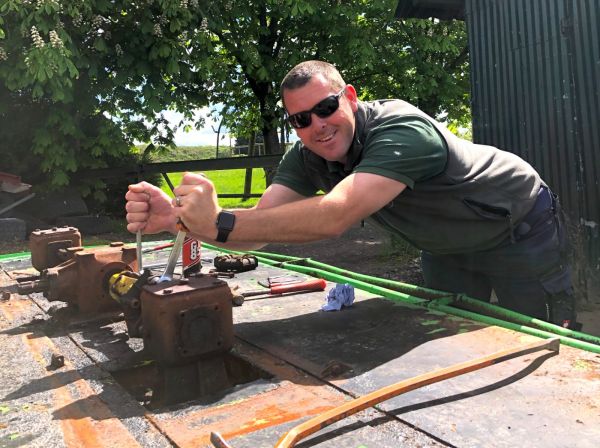 Josh has worked for us for 14 years, he is a qualified Engineer and started his career doing Marine Engineering. However, on a sunny Sunday while he was here Clay shooting as one of our regulars, a chance conversation he had with Steve, he found himself being offered a position here as our resident mechanic, engineer and fixer of stuff!!
He loves to work things out and find a solution…..this sometimes involves head scratching! Often we find him in the workshop surrounded by engine parts and whiffing a little bit of Eau d'Diesel!!! He services all our kit, he builds and designs stuff, he takes engines apart on a regular basis, he helps keep site today with the tractor mower and he's is the best sewing machinist we know when the hovercraft skirts need repairing!! …There are many strings to Josh's bow His happy place is playing diggers rumbling round site filling in the pot holes, (giving him a cup of tea after that is entertaining!) His favourite activity is the Rally Karts because he loves drifting, he is a self confessed Speed Demon and thrill seeker
At Christmas time we dress him up in daft outfits for some marketing activity, he made a lovely Reindeer!! He says he enjoys his job here because the site is full of genuinely nice people and the management and staff are all great. He likes getting dirty and no 2 days are ever the same! In his spare time you will find him by the seaside, he loves Boats, sunshine, beers ….and fast cars!!