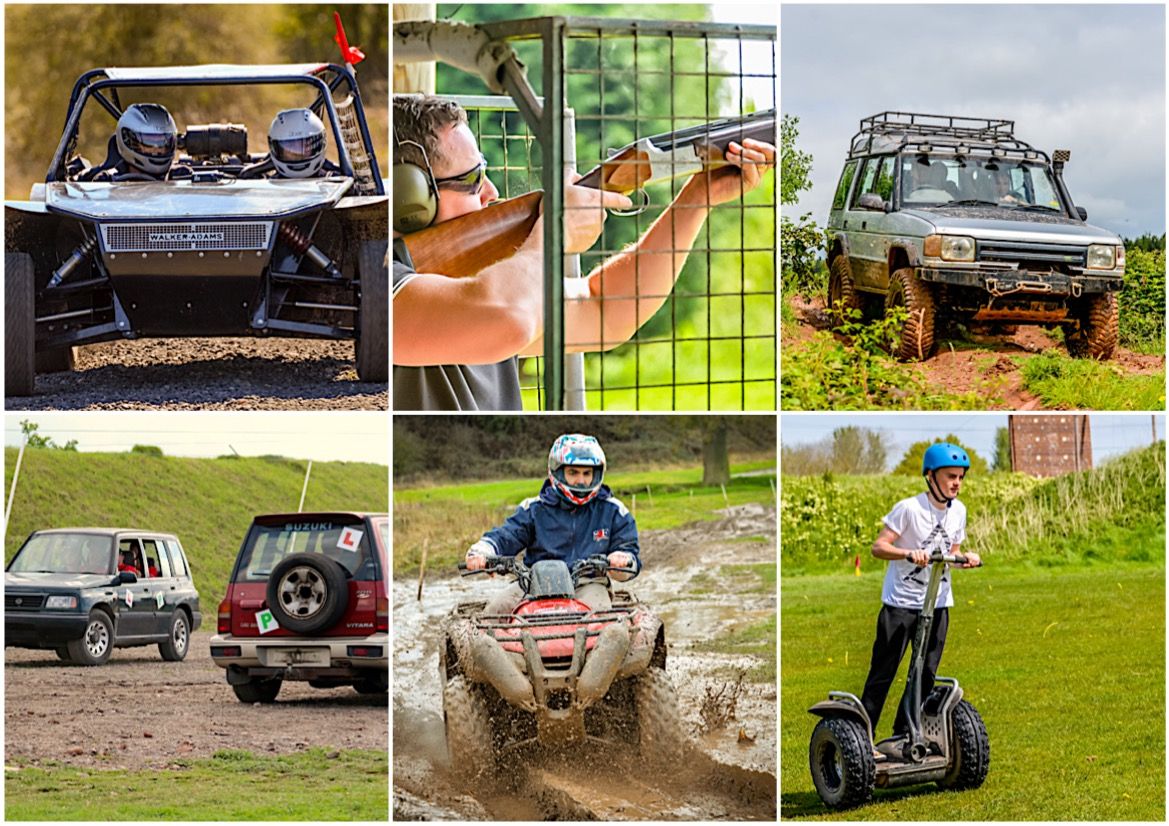 Mixed Activity Event
This is the most popular option for groups!
You select from 2 to 7 activities from a selection of driving, shooting and team building options. Allow an hour per activity to form your own event that can last from just a couple of hours to a full-day.
2 hour event

16yrs+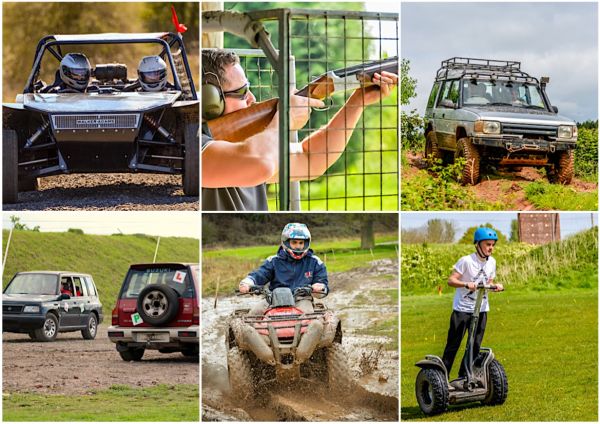 About this package
Mixed Activity evevnts are suitable for 6+ people and allow you to select from a range of targets sports, vehicles and team building options. This highly flexible format allows you to build your own event and is suitable for many audiences including corporate groups, get togethers, stag / hens and birthday gatherings.
Activities can include:
Pistol & Rifle Shooting Gallery
Archery
Axe Throwing
Clay Pigeon Shooting
4x4 Off Road Driving
Karts
Reverse Steer Snooker
UXB Team Building Challenge
Hovercraft
Crossbows
Empire Crate Building Team Challenge
Digger Challenge
Segways
Laser Tag
What's included?
The event will start with a short briefing to explain the format before the group are divided into teams, typically of 6 to 8 people. Instructors will take the teams out to their first activity where tuition and techniques will be delivered to ensure everyone is confident and able to get involved. Activities often involve a practice session followed by a scored competition.
After approximately 50 minutes the teams will swap activities.
During the event the guests will always be close to the Clubhouse for refreshments.
After the teams have completed all of the activities they will return to the Clubhouse to hear the scores for the event.
A half-day session typically includes 2 or 3 activities whilst a full day would include 4 to 7 events.
Costs and Duration
2 activities (suitable for 6 to 14* people) - £66 per person - 2 hour duration
3 activities (suitable for 6 to 21* people) - £99 per person - 3 hour duration
4 activities (suitable for 6 to 28* people) - £132 per person - 4 hour duration
5 activities (suitable for 6 to 35* people) - £156 per person - 5 hour duration
6 activities (suitable for 6 to 42* people) - £180 per person - 6 hour duration
7 activities (suitable for 6 to 49* people) - £204 per person - 7 hour duration
* If you have a larger group just contact us - there's usually a way to make the event work for you.
Extras
A variety of extras can be added to your evevnt including:
- Bacon Rolls upon arrival
- BBQ lunch (there are lots of catering options available)
- Afternoon cakes
- Overalls
- Activity upgrades
Pistol & Rifle Shooting Gallery
A superb 12 firing point indoor range shooting at an array of reactive targets including 2 fairground style knockdown duck galleries against the clock, duelling trees and competition paper targets 5 to 40 metres away using gas powered bolt-action pistols and rifles fitted with telescopic sights. Individual weapons, so lots of team members are involved throughout!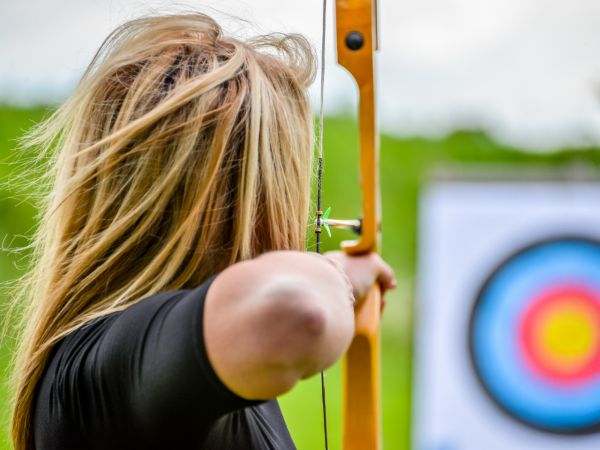 Archery
An experienced archery instructor will take the guests through a series of practice sessions and scored competition rounds using light weight and user friendly recurve longbows. Many participants find archery very addictive due to the fast rate of improvement that allows a complete novice to achieve a very respectable score.
Kart Racing
Drive powerful go-karts around a purpose built race track filled with testing corners, high speed straights and chicanes. After a safety briefing and issue of equipment (race suit, helmet and gloves) the kart controls are detailed and the race format is explained. Fast and furious action!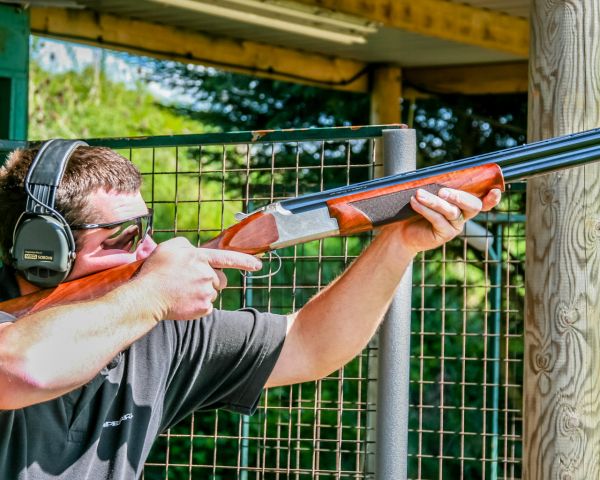 Clay Pigeon Shooting
A classic activity that always proves to be a favourite. Have a go at using a shotgun to shoot at fast moving, flying clay pigeons (saucer shaped disks of clay that are thrown through the air by a mechanical trap). Full instruction will be given by a qualified instructor who will ensure a safe and successful experience.
Quad Bike Circuits
These are highly capable off-road vehicles that can go virtually anywhere. A challenging, rough-ground course is used that incorporates mud, slopes, tight corners and slaloms. This is not a speed activity — quad bikes and speed are a bad combination! Instead this activity will test the ability and driving technique of the participants.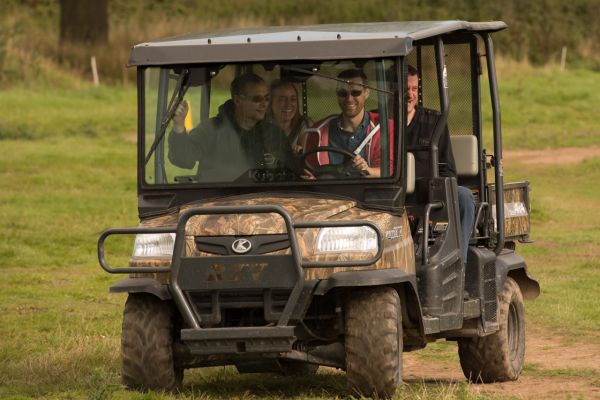 Reverse Steer Snooker
This converted golf buggy provides one of the funniest activities you'll ever experience! The objective is to drive the vehicle through a series of snooker ball coloured gates accumulating the highest break possible along the way. The problem is when the buggy is steered left it will go right and throw a couple of blindfolds in — the result is hilarious!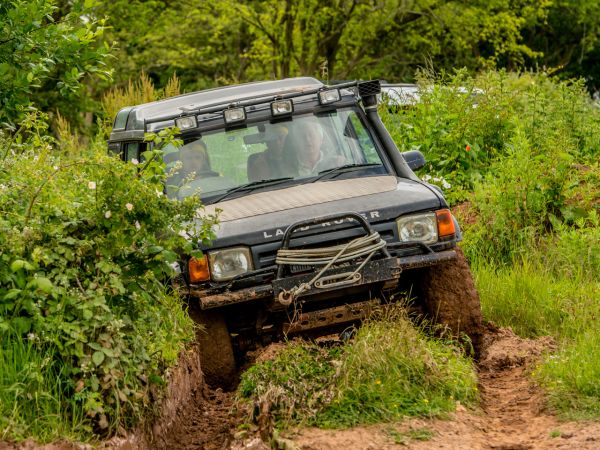 4x4 Off Road Driving
Always a favourite activity! Drive an off-road prepared Land Rover around our challenging, nerve tingling, off road course. Suitable for any level of ability from experienced driver through to those who have never driven before!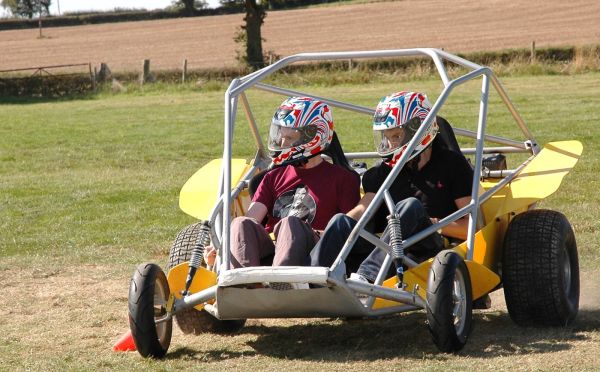 Powerturn Driving
PowerTurns are two-seater twin-engined karts capable of amazing tricks! Forget steering wheels and pedals! Two people control these twin-engined karts, each has a hand throttle controlling one engine, meaning the kart will do donuts and pull wheelies at 30 mph going round corners! Close co-operation between team members is essential to get anywhere, otherwise you'll just sit there spinning on the spot!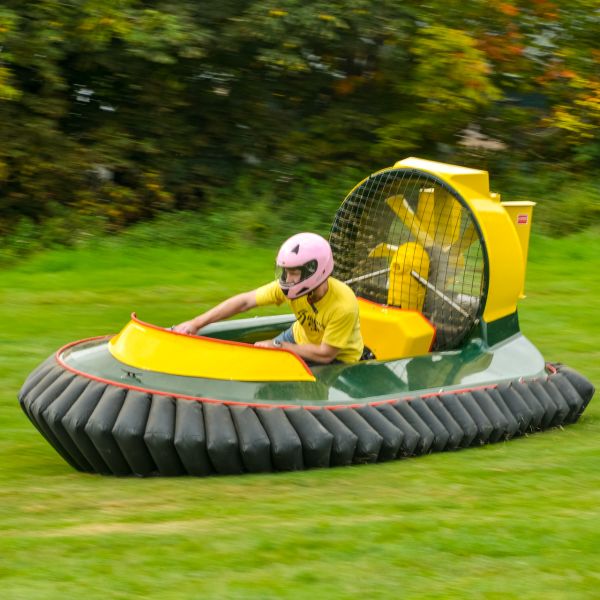 Hovercraft
These single seater hovercraft ride on a cushion of air around a winding course that will really test your skill. The hovercraft are controlled using a combination of engine speed, rear air deflectors and body position — a truly unique driving experience.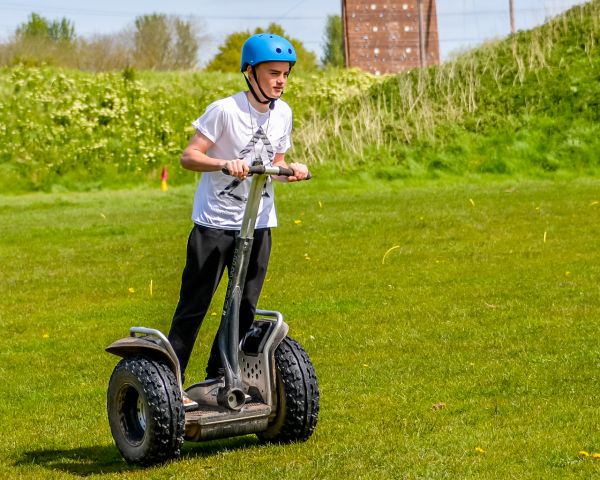 Segways Riding
These electronic, futuristic, motor driven vehicles are truly unique to drive! You lean forward and they drive forward, you lean left and they turn left. Participants start at low speed to gain confidence, before tackling a winding cross-country course. A very unusual activity!
Digger Challenge
Get to grips with the champion of the building site! These 7-tonne earth movers are incredibly powerful and yet very precise to control using the numerous hydraulic rams. The challenge is to use the articulated arm to scoop up footballs and drop them in to a container — sounds easy, but with multiple movements controlled by both hands this is a real test of co-ordination!
Crossbows
A hybrid between a rifle and an archery bow, crossbows are easy to hold, aim and fire. Small paper targets are shot at over a distance of around 20 metres using these powerful weapons that require careful aiming and gentle technique to achieve a high score.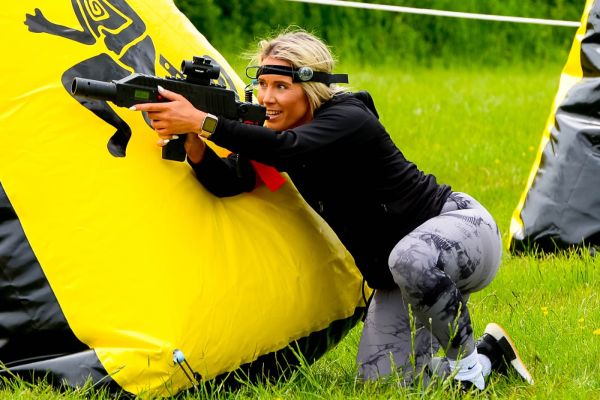 Laser Tag
A fast paced 'combat game' where players use laser guns to shoot at opposing team members (the laser guns are perfectly safe!) A simple objective, such as capturing the opponents flag, ensures everyone gets involved - the compact area ensures there is nowhere to hide for too long!
Empire Crate Building Team Challenge
The team is equipped with 50 milk crates with which they must form the tallest tower possible. The tower must hold the weight of one team member at its summit (they are connected to a safety line for when the tower eventually falls over)! A true test of courage, team work and encouragement.
UXB Team Challenge
A large unexploded bomb must be recovered from its resting place and then defused before the timer reaches zero. The bomb is heavy and awkward to lift and so requires ropes, pulleys, shackles and lateral thinking to move it to safe ground. A brain-twisting logic problem then needs to be solved to discover which coloured wire needs to be cut.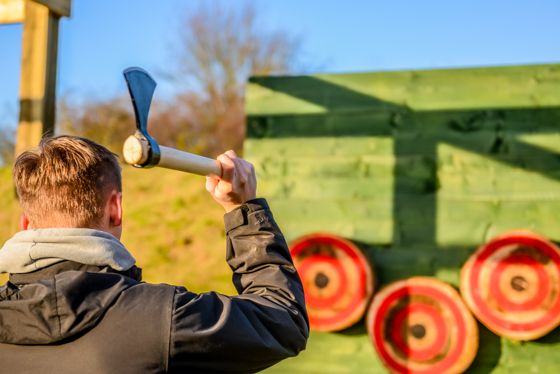 Axe Throwing
Learn to throw axes and tomahawks at wooden roundel targets. This ancient skill is immensely satisfying to experience — once you have learnt the basic techniques you will not want to put the axes down! Training axes are used to learn the basic throwing techniques before the full sized tomahawks are introduced.
Team Building Challenges
We have lots of team challenges that can really help to build team work, improve comunications and develope leadership skills. Favourites include:
- Spiders Web
- Poles Apart
- Toxic Waste
- Stepping Stones
- Cross Roads
- Electric Fence
Contact for details.
Check availability for
Mixed Activity Event
To check availability for a Twin Activity event please call the office 01926 491948 or send us an enquiry.
Need something special?
If you have a large group or would like a different event format just let us know. We can usually find a format or event type to fit your requirements and budget.
Get in touch